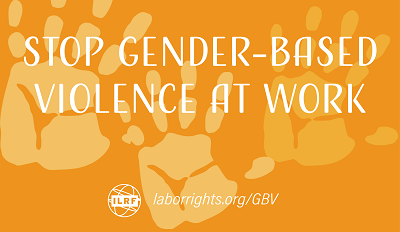 ILRF, in coordination with the American Federation of Labor and the International Trade Union Confederation, is campaigning to support an International Labor Organization Convention against gender-based violence at work. Gender-based violence is one of the most prevalent human-rights violations in the world. More than 35% of women worldwide have experienced physical and/or sexual violence and between 40% and 50% of women experience unwanted sexual advances, physical contact or other forms of sexual harassment at work.
Gender-based violence (GBV) is a manifestation of unequal power relations between women and men. At work, as in society, GBV can take on multiple forms, including:
Physical assault, including rape
Verbal abuse and threats of violence
Bullying
Psychological abuse and intimidation
Sexual harassment
Further, domestic or 'intimate partner' violence has a clear impact on the workplace, through absenteeism, loss of productivity and job security for the victims, and misuse of company resources by perpetrators, for example.
How can you support the convention? Check out this handy guide.
Trade unions are taking action to end gender-based violence at work and are campaigning for a new International Labor Convention to tackle the various forms of gender-based violence that occur in the world of work .
Join the campaign! Visit the ITUC website to learn more.