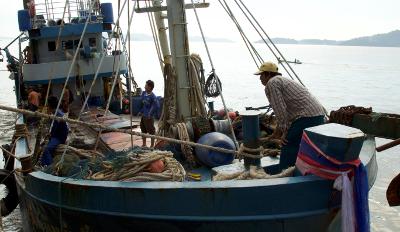 Products on U.S. grocery shelves, such as frozen shrimp and canned tuna, have been linked to labor trafficking and child labor.
Thousands of migrant workers cross the border into Thailand each year from neighboring countries, with the greatest numbers coming from Burma. An estimated 1.8 million to three million migrant workers live in Thailand, many of them unregistered. These workers are employed in labor-intensive export industries such as fishing, manufacturing, food processing and agriculture.
Labor registration is complex and leaves migrant workers dependent on recruiters and employers and vulnerable to extortion. Indicators of forced labor are common, including document retention, restriction of movement, debt bondage, withholding of wages and excessive overtime. Local police sometimes overlook abuse, and have even been implicated in trafficking schemes. Discriminatory labor law prevents migrant workers from forming labor unions.
The seafood industry, in particular, has had serious concerns with labor trafficking, child labor, and debt bondage, among other abuses. The Food and Agriculture Organization has estimated that up to two million people are employed in the seafood industry in Thailand, on fishing vessels and in processing facilities, and 90% are migrant workers. Fishing vessels pose the biggest risk to migrant workers. A prevalence study released in 2017 by the International Justice Mission and Issara Institute found that 40 percent of crew interviewed were victims of trafficking, and another 49% were potential victims given abusive recruitment and employment practices. Nearly all were victims of wage theft and/or illegally low compensation.
In response to the international pressure, Thailand has undertaken a series of significant reforms to improve oversight of its fisheries sector. For instance, it drafted and passed The Prevention and Suppression of Human Trafficking Act, which brings the definition of human trafficking more in line with international standards. Particularly in the seafood sector, it has made attempts to crackdown on illegally operating vessels and increase inspections to ensure all vessels are legally registered and abiding by the law. However, these changes have failed to change the fundamental power imbalance between migrant workers and their employers or to substantively change the reality on the ground for migrant workers, who are still vulnerable to trafficking.