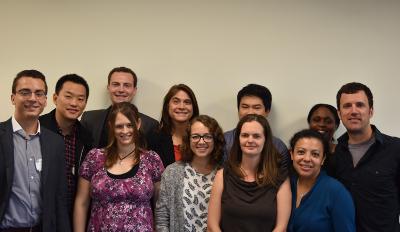 Our staff are dedicated to supporting the rights of workers and to building power for workers through a variety of strategies.  To reach us, fill out the form on our contact page or call us at 202-347-4100.  Members of the media, please contact Liana Foxvog at liana[at]ilrf.org.
Staff
Diana E. Alonzo Watkins, Senior Development Officer
Diana E. Alonzo Watkins joined ILRF in April 2015.  She is a cause-driven fundraising professional with more than 10 years of non-profit experience in a variety of direct service and policy organizations with a focus on working with marginalized populations.  Prior to joining ILRF, Diana worked as a Grants Manager for CentroNía, a nationally recognized organization serving low-income children and families of color in Washington, DC. She graduated from American University with a Masters in U.S. Foreign Policy and bachelor's degrees in Government & Politics and Spanish Language, with a concentration in Translation from the University of Maryland, College Park.
Elena Arengo, Senior Corporate Accountability Analyst
Elena Arengo joined ILRF in April 2017 as Senior Corporate Accountability Analyst. Previously, she was Chief Technical Advisor for the ILO/IFC's Better Work program in Nicaragua, where she established and coordinated a national program to monitor and improve conditions in the apparel export manufacturing industry in close coordination with national trade unions, employers, government and multinational brands. She also worked as consultant for the Better Work program in Bangladesh. Before that, she worked at Social Accountability International for ten years, first as Worker Training Program Coordinator, developing and implementing capacity-building programs for union workers in nine countries, in coordination with the International Textile Garment and Leather Workers Federation, and later as Latin America Program Director, on programs on CSR and labor rights, in partnerships with trade unions, brands, employers, governments and NGOs throughout the region. Elena has also worked with MADRE, an international women's human rights organizations on programs for women's economic development and human rights.  
Jesús Arzola Vega, Development & Executive Assistant
Jesús joined ILRF in August 2016. Jesús is a recent graduate of Michigan State University where he double-majored in International Relations and Economics. Prior to graduating, Jesús interned on Capitol Hill in the office of Rep. Sander Levin (D-MI 9) through the Congressional Hispanic Caucus Institute. Jesús also interned at the state and municipal levels of government in Michigan during his undergrad. Following graduation, Jesús pursued a fellowship with the United States Hispanic Chamber of Commerce. He also brings years of experience as a de-facto administrative assistant at his mother's paralegal agency in Detroit. In this capacity Jesús conducted outreach to the Hispanic community of Detroit through a series of projects aiming to educate immigrants on their rights. His work at ILRF is influenced by his background as an immigrant, activist, and artist. 
Kirill Boychenko, Cotton Campaign Coordinator
Kirill Boychenko is the Coordinator of the Cotton Campaign, a global coalition of labor, human rights, investor and business organizations coalesced to end forced labor of children and adults in the Uzbekistan and Turkmenistan cotton sectors. ILRF is a leading member of the Cotton Campaign. Kirill completed his PhD studies with Peoples' Friendship University of Russia and is an expert and a scholar with over 10 years of experience as a practitioner in the field of human trafficking prevention. In addition to his counter-trafficking work, he directed anti-corruption and compliance programs in Russia for the Council of Europe and the American Bar Association Rule of Law Initiative. Earlier, Kirill worked for the International Organization for Migration (IOM) for five years. In his capacity as the IOM Moscow Counter-Trafficking Focal Point, Kirill developed and implemented multi-million dollar international projects and various educational programs and provided training to Russian police officers, judges, prosecutors and attorneys. Kirill was a Fulbright Humphrey law fellow in 2011-2012 and a Fellow with the Harvard Carr Center for Human Rights Policy in the fall of 2012. During his fellowship years, he worked with Dorsey & Whitney LLP in Minneapolis, Minnesota, and collaborated closely with the University of Minnesota's Human Rights Center.
Aisha Brown, Director of Finance & Administration
Aisha joined ILRF in January 2014. As Director of Finance & Administration and member of the Executive Management Team, Aisha leads the organization in the strategic and financial oversight of the organization.  She has senior responsibility for all areas related to finance and accounting, partner grant agreements, human resources, administration, and information technology infrastructure.  Aisha works closely with the Board of Directors and is the lead staff member on both the audit and compliance. Prior to coming to ILRF, Aisha worked for 14 years as a financial management advisor for several nonprofit organizations, including the National Japanese American Memorial Foundation and the Flavor and Extracts Manufacturers Association.  She holds a bachelor's degree from the University of Virginia.
Liana Foxvog, Director of Organizing & Communications
Liana Foxvog is ILRF's Director of Organizing and Communications. In 2004, Liana joined SweatFree Communities as National Organizer, and has coordinated ILRF's campaigns in the apparel industry since the merger with ILRF in 2010. By leading workshops and coordinating national conferences, she has played a critical role in helping launch new grassroots campaigns to promote transparency and respect for workers' rights in apparel supply chains. She has been interviewed extensively on ILRF's work advocating for workplace safety and corporate accountability in the Bangladesh garment industry, including by ABC, BBC, CBC, CBS, In These Times, International Business Times, New York Times, NPR, Salon, The Nation, and Wall Street Journal. Previously, Liana worked for the American Friends Service Committee, educating and mobilizing youth to take action against corporate globalization and for fairness in trade agreements. She has also taught courses on Labor and the Global Economy at the University of Massachusetts and served as a Spanish interpreter for immigrant rights and social justice organizations. Liana holds a Union Leadership and Administration Master's Degree in Labor Studies from the University of Massachusetts and a B.A. in Political Science from Reed College.
Judy Gearhart, Executive Director
Judy Gearhart is the Executive Director of ILRF since March 2011.  Judy is also an adjunct professor at Columbia University's School for International and Public Affairs, teaching the course Human Rights and Development Policy since 2002.  Previously, Judy coordinated legal research and training programs for workers and trade unions at Social Accountability International, led field research and evaluations for UNICEF and the ILO's International Program on the Elimination of Child Labor in Honduras, and worked for women's rights and democratization with NGOs in Mexico.  She has published on women's rights, children's rights and labor relations. Judy holds a Master of International Affairs from Columbia University.
Eric Gottwald, Legal & Policy Director
Eric Gottwald joined ILRF in the fall of 2011 and is responsible for its programs in Latin America, as well as leading legal, policy, and legislative efforts.  Prior to joining ILRF, Eric worked on union capacity building projects for the AFL-CIO's Solidarity Center in Lima, Peru.  He graduated from the University of Minnesota Law School in 2005 and his work has appeared in the American University International Law Review.  During law school, Eric worked as a Fellow for the International Labor Organization's Multinational Enterprises Programme.  He is licensed to practice law in Wisconsin and the District of Columbia.
Kevin Lin, China Program Officer
Kevin Lin is ILRF's China Program Officer. His main responsibilities consist of working with university law schools and civil society organizations in China to provide legal consultation and representation, and improve the legal environment for rural migrant workers. Prior to joining ILRF, Kevin has conducted academic research on China's civil society and the labor movement with extensive in-country fieldwork experience. His research has been published in academic journals and edited volumes. In addition, Kevin has engaged in writing for a variety of online media outlets about Chinese workers and trade unions. He is interested in building international solidarity between workers in different countries.
Abby McGill, Director of Campaigns
Abby McGill has been ILRF's Campaigns Director since September 2013. She is responsible for coordinating campaigns around labor exploitation in globally-traded agricultural commodities. Her current campaigns include cotton from Uzbekistan, seafood from Thailand, tobacco from Malawi and cocoa from Ghana and Côte d'Ivoire. Prior to ILRF, Abby worked for more than six years in the international affairs department of the American Federation of Teachers, where she coordinated projects with labor partners around the world. She had previously worked as a journalist and has a Master of Public Policy degree from Georgetown University (international policy and development) and bachelor's degrees in journalism and Russian studies from the University of Kansas.
Sarah Newell, Campaigns Associate
Sarah Newell joined the team in July 2016 as a Campaigns Associate. Her primary focus is on campaigns around gender-based workplace violence and corporate accountability in the garment industry. She also supports a number of campaigns with communications and media efforts. She previously worked as an organizer with the American Association of University Professors, where she fought alongside faculty on issues in higher education. Sarah holds a Bachelor's in Business Administration from the University of Southern California, where she was a member of United Students Against Sweatshops.
Gabriela Rosazza, Stephen Coats Memorial Fellow, USLEAP
Gabriela Rosazza joined the team in January 2017 as the Stephen Coats Memorial Fellow for the U.S. Labor Education in the Americas Project (USLEAP), ILRF's program focused on trade union rights in Latin America. Gabriela is a recent graduate of Saint Joseph's University where she majored in International Relations with minors in Latin American Studies and Faith-Justice Studies. During her time at Saint Joe's, she was a participant and leader of various student immersions to Ft. Benning, Georgia, El Paso, Texas, Dominican Republic & Haiti, Guatemala, and Cuba. Gabriela studied abroad in Rio de Janeiro, Brazil and was involved with campaigning to source Altagracia apparel at the campus bookstore. Her work at ILRF is influenced by her background as a first-generation American and dedication to continued solidarity with workers in Latin America.
Andy Shen, Senior Legal & Policy Analyst
Andy Shen is ILRF's Senior Legal & Policy Analyst. He was previously the Legal Adviser and Program Manager of the Roosevelt Institute's Future of Work Initiative and a legal and research consultant to the ILO's GMS and ASEAN TRIANGLE projects. During his three years in Asia, Andy worked on transitional justice in Cambodia, combating labor trafficking in Southeast and East Asia, and protecting Southeast Asian migrant workers from exploitation. His work has been published by the ILO and publicized by BBC-Asia and he has presented at ILO convenings in Indonesia and Vietnam.
Andy holds a B.A. in Political Science, with a concentration in International Relations, from UCLA, and a J.D., with a specialization in Public International Law, from Santa Clara University School of Law. He is admitted to the New York Bar and is a member of the New York City Bar Association's International Law Committee. 
[Interested in bringing a speaker to your community? Contact us.]